Altaro Office 365 Backup
Unlimited storage, unlimited retention with 24/7 support included.
Back up and restore all your company's Office 365 mailboxes, OneDrive and SharePoint through an online console, on an annual subscription.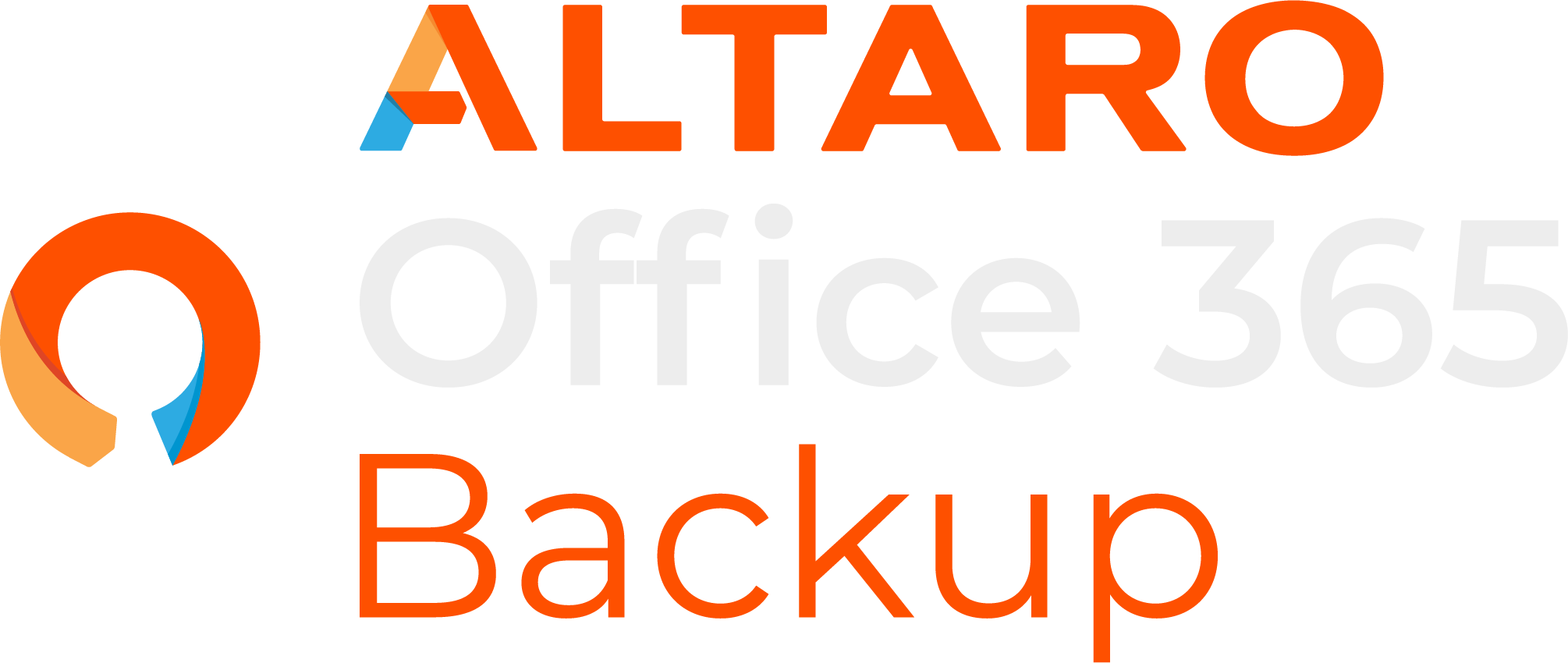 Sign up for your free 30-day trial!
With Altaro Office 365 Backup, you can back up and restore all your organization's Office 365 mailboxes and files stored in OneDrive and SharePoint through an annual or multi-year subscription. And you can centrally manage and monitor your backups through Altaro's cloud-based management console. You also get unlimited backup storage. Altaro Office 365 Backup automatically backs up the data up to four times per day and saves them to a secure cloud backup location on Altaro's Microsoft Azure infrastructure.
---
BENEFITS:
Robust, secure and unlimited storage included in the price
No retention policies
Lightning-fast 24/7 support
Hassle-free backups
Easily restore items that are misplaced, deleted, damaged or destroyed
Centralized management
Unbeatable value
---
"Altaro offers everything a business needs to secure its Microsoft Office 365 organisations and can be swiftly deployed in the cloud without disrupting normal operations. All backup processes are fully automated, it provides an excellent range of both full and granular restore facilities and delivers peace of mind at a very affordable price."
Storage Magazine, November 2019.
ALTARO REWARDS & REVIEWS
Here you can find all reviews and awards for Altaro Office 365 Backup as well as for other Altaro products.
---
FEATURES
BACKUP
Back up mailboxes, including mail, attachments, calendars & contacts.
Back up files within OneDrive & SharePoint.
Auto creation of backup jobs.
Minimal recovery point objective (RPO).
MANAGEMENT
Single cloud console to manage and monitor backups.
Audit log.
Auto provision user backups.
Manually enable/disable backups.
Easy backup data access, search and browsing.
Granular user access rights.
RECOVERY
Restore full mailbox or granularly restore mailbox emails.
Recover to original mailbox or to alternate mailbox.
Restore OneDrive and SharePoint files to a OneDrive account or a SharePoint Document Library.
Export to ZIP or, in the case of mailboxes, PST.
Restore from any point in time.
Quick & advanced search features.
STORAGE
Unlimited storage.
Altaro-managed Azure cloud infrastructure.
Full AES 256 encryption.
2FA.
Indefinite retention.
---
Why do I need to back up Office 365?
You may believe that Microsoft fully backs up Office 365 data as part of the subscription, but this is not the case. Office 365 was not built to provide data protection services. It's therefore essential for you to implement a reliable solution to back up your Office 365 mailboxes and your files in OneDrive and SharePoint Document Libraries. Click here to learn more.
---
GET IN TOUCH WITH US!
You wish to buy a new license?
You wish to renew your SMA?
You need help with licensing?
You need help with the trial?
You need technical support?
An Introduction to Altaro Office 365 Backup
Veröffentlichungsdatum: 25.08.2020 14:31:19

In diesem Katalog sind keine Artikel ODER diese Artikel können nicht direkt im eShop bestellt werden;
Bitte wählen Sie einen Unterkatalog bzw. kontaktieren Sie unser Vertriebsteam unter office@nestec.at oder +43 7223 80703