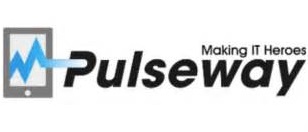 Immer Unterwegs? Kundenservices leisten - immer und überall * powered by NESTEC!
Spätestens am Tablet oder Phone enden die Möglichkeiten klassischer Remotemanagement Lösungen. Doch hier beginnen erst die wahren Stärken von Pulseway. Hosted by NESTEC in Ö! - oder wahlfrei bei Ihnen oder in Ihrem RM.
Things that will

keep us busy in 2018
Patch Management
We will be rolling out OS Patch Management this January, and 3rd party Patch Management by the end of March 2018. Allowing you to schedule updates across your endpoints from a centralised location.
Backup
With Pulseway Backup - you'll have the power to backup anything and everything, on demand or scheduled, and all centrally from the Pulseway Web App. This is scheduled for release in Q2 2018.
Other Developments
We are planning on introducing a vast array of features and improvements including:
Improved Agent Policies, Anti-Malware, Multi-Factor Authentication, Improved Remote Desktop, Zapier Integration and more.
Kurzübersicht Pulseway RMM
Veröffentlichungsdatum: 19.01.2018 13:44:20

Im Moment führen wir leider keine Versionshistorie zu dieser Artikelgruppe
pulseAgent




Pulseway Monitoring Agent
Monitoring & Remoteservices






Preis netto ab EVK.€: 0,00




pulseKASP




Pulseway Managed Antivirus Agent
powered by Kaspersky






Preis netto ab EVK.€: 0,00




pulseWebAV




Pulseway Webroot AV
pro Endpunkt/ pro DNS






Preis netto ab EVK.€: 0,00